Confocal Laser Scanning Microscopy (CLSM)
A CLSM is an advanced optical microscope where the light source is a laser beam. In short, very thin focal planes are imaged and these deliver high detail optical sections through the sample. If multiple sections at different depths are scanned, a 3D-reconstruction of the sample can be made. 
The image below is a composite of >1000 individual CLSM images that were stacked and stitched to obtain a very large area image of a plant stem cross section.
CLSM is most often used as a fluorescence microscope: The laser light hits fluorescing molecules, and these molecules emit light at lower energies. A sample can be autofluorescent, or otherwise a fluorescent dye can be used to stain the sample. Different stains can be used to highlight different chemical components of a sample. In life sciences CLSM is often used for immunolocalization of proteins and other biomolecules. Both the possibilities of 3D-imaging and chemical identification are of great use for microstructure research challenges.
CLSM is a relatively fast and powerful methodology to provide high resolution imaging and chemical composition insights of emulsions, suspensions, tissues, gels, and other soft matter. Although imaging penetration depth is generally better with CLSM than with conventional light microscopy, this method can only be used to depths of several tens of microns. It is therefore important to check so-called sample surface effects with other methods. CLSM can be used to study emulsion droplet sizes, aggregation behaviour of proteins, interface properties, etc.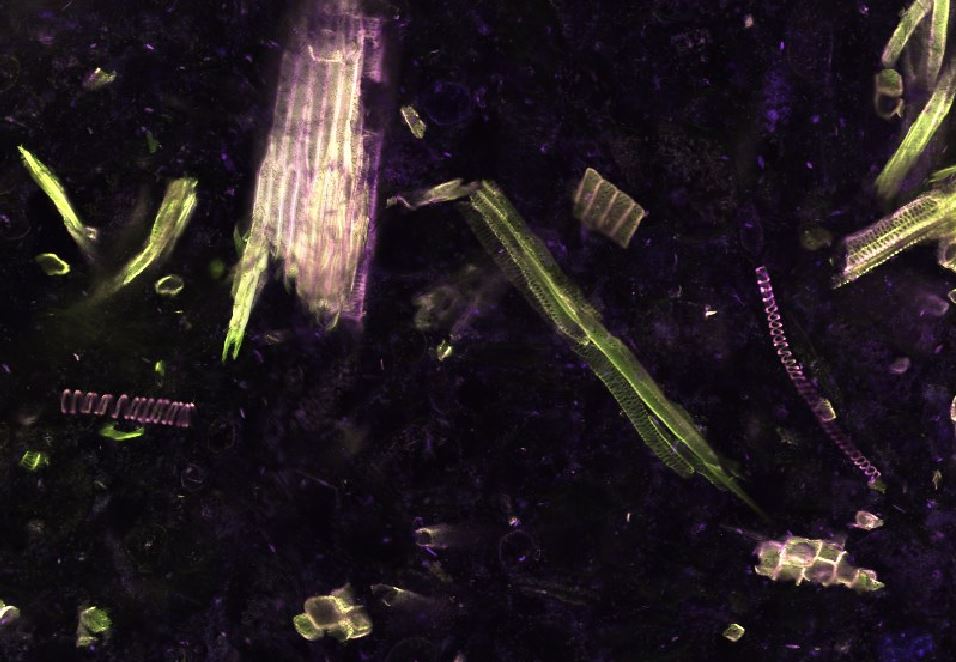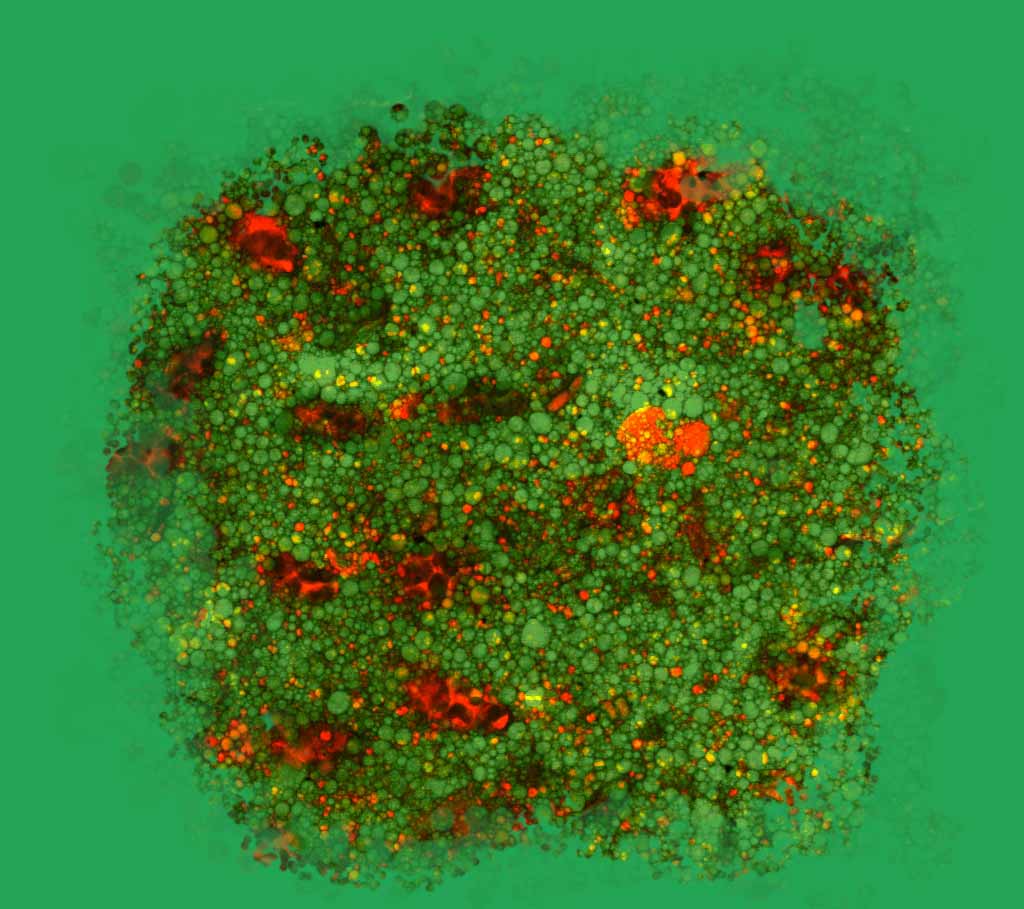 Confocal microscopy provides quick insight in emulsion microstructures.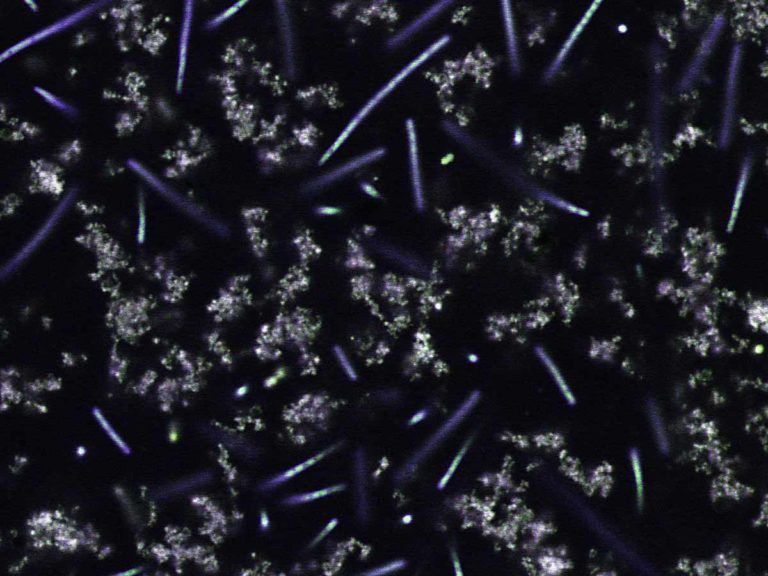 Confocal Microscopy image of yoghurt, stained with acridine orange.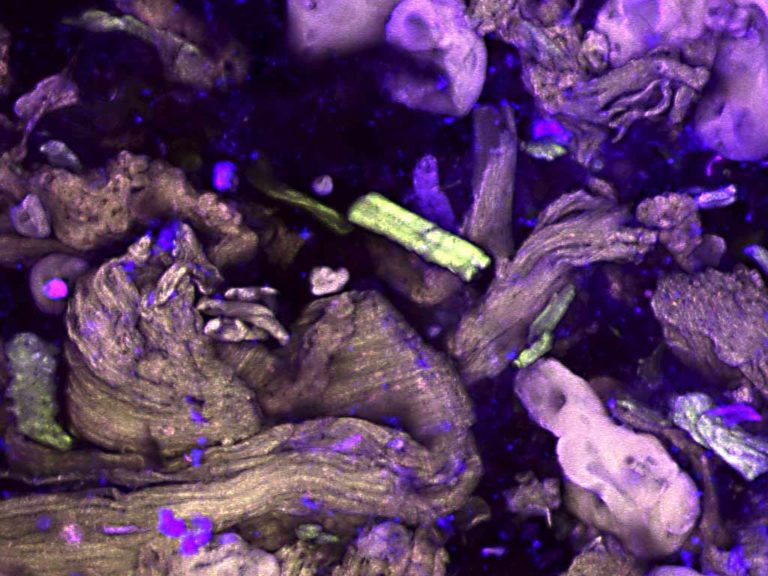 Confocal Microscopy (CLSM) image of detail of vegan burger.
Confocal microscopy goes beyond life sciences
Confocal Microscopy at Consistence
Consistence is equipped with a Leica TCS SP5 Confocal laser ScanningMicroscope, with an inverted stage. Especially when combined with other imaging methods at Consistence, this instrument has proven to be efficient to analyse/study emulsion droplet sizes, protein aggregate shapes and sizes, interface characteristics, gel networks, etc.
CLSM at Consistence is applied to better understand phenomena like creaming, aggregation, (partial) coalescence, encapsulation, crystallisation, delamination, and also for understanding structure-function relationships of fresh and processed biological tissues.
To visit our laboratory, send a sample or learn what we can do for you.
Our aim is to provide world class microstructural insights and we are happy to receive feedback. Contact us for more information if this page is relevant for your research. Free use of the images and content of this webpage is permitted with reference to Consistence.