Cryo-Scanning Electron Microscopy (Cryo-SEM) is a well-known method for surface imaging of frozen hydrated materials at high resolution. However, the microstructure of most materials and products is hidden below the surface.
A relatively quick method to study internal structure of frozen hydrated material is freeze-fracturing, also called cryo-fracturing. The advantage of fracturing is that the path of a fracture often follows interfaces, which can be studied in high detail. However, a fracture surface is often difficult to interpret, due to the rocky path of the fracture.
In contrast, Cryoplaning yields a flat section face through the sample. With cryoplaning, a sample is 'shaved' by cutting sections off the material. The sections are discarded and the blockface of the sample is imaged.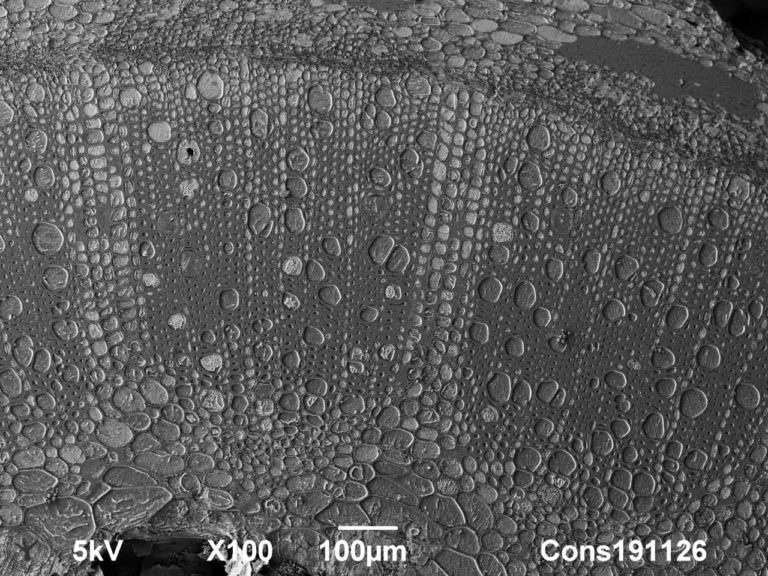 Cryoplaning SEM overview image of Rose cut flower stem cross section.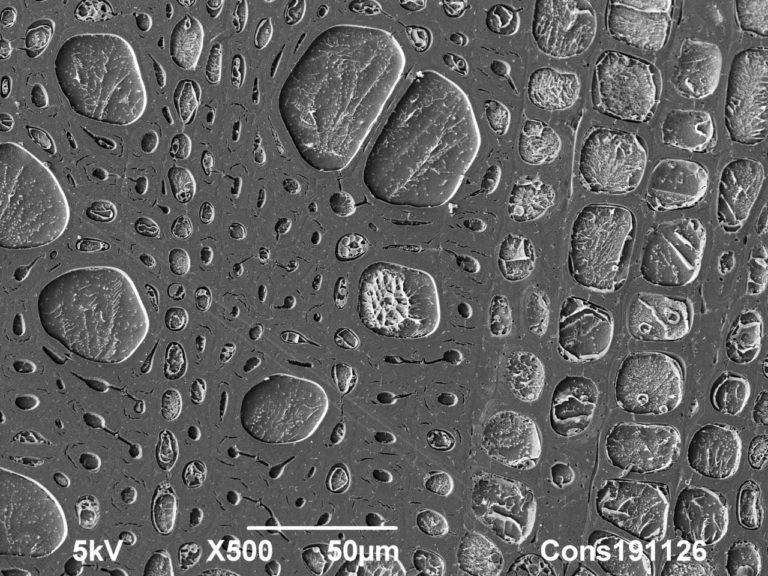 Cryoplaning SEM section through xylem tissue close to the cut surface of Rose cut flower stem.
Cryoplaning requires high level of expertise and good instruments, but the reward is high. A cryoplaned sample allows for high resolution imaging with minimal and well-defined artifacts of freezing (ice crystals) and sectioning (knife marks), creating cross-section imaging results of samples very close to the truth of the untouched intact sample. This lack of major microscopy artifacts is the reason why cryoplaning is often used to find the ultimate clarity about the reliability of other imaging methods. Therefore, cryoplaning is often applied to key samples in a project, especially at the beginning of projects and when new and unknown microstructures are made or found.
Consistence offers World Class cryoplaning
Methodology of Cryoplaning
Cryoplaning starts with good freeze fixation. In most cases, plunge freezing in melting propane is the best method, allowing relatively large samples to be frozen in a standardised way, with good freezing in the center for low resolution overview imaging, and extremely fast freezing at the periphery for high resolution imaging of nano details. After freezing, the sample is sectioned with a combination of glass and diamond knives. Then the planed surface of the sample is sublimated (freeze etched) and sputtercoated for optimal imaging contrast.
SEM imaging of cryoplaned surfaces is relatively straight forward, as these surfaces are extremely flat and not very sensitive to beam damage and other difficulties, typical for 'conventional' cryo-SEM. Mastering the details of all subsequent steps guarantees a high success percentage of the cryoplaning workflow and an output of high quality images revealing rich and reliable sample information.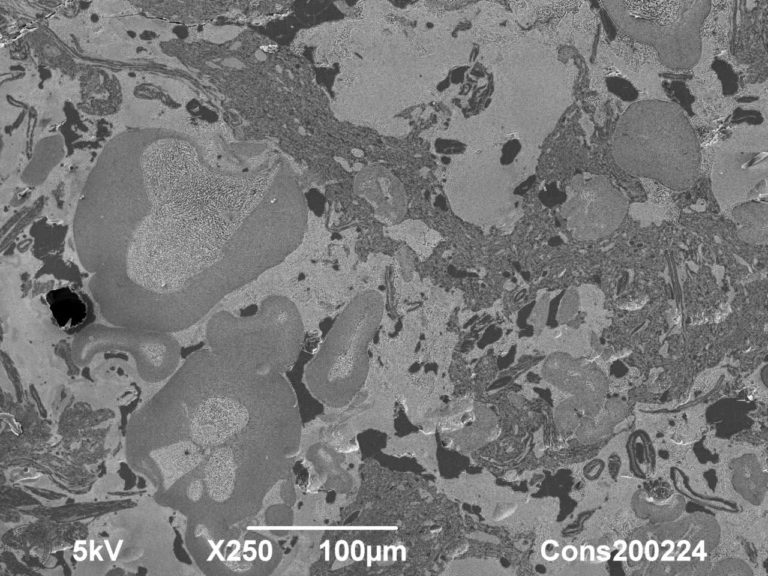 Cryoplaning SEM image of a vegan burger at low magnification. Insightful cross-sectional overviews can be obtained with cryoplaning.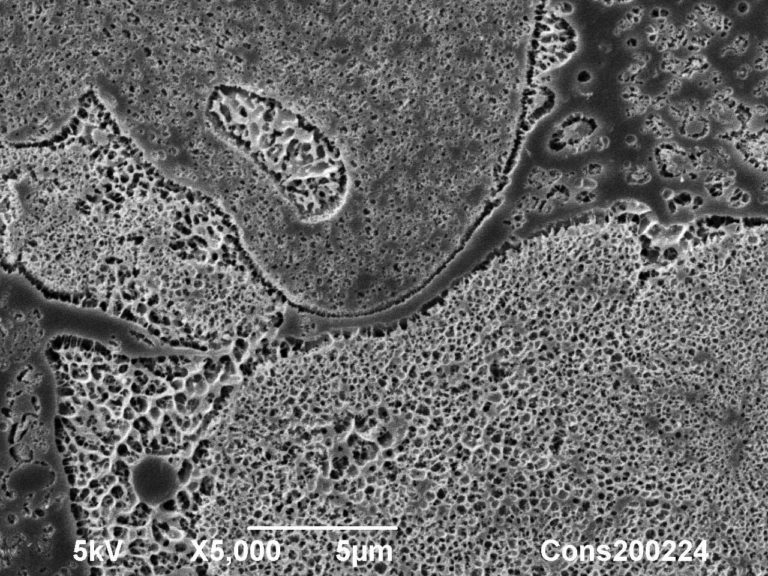 Cryoplaning SEM image of a vegan burger at high magnification. The different ingredient phases can be discerned at high resolution.
Variations of Cryoplaning
Although there are more alternatives for the investigation of the internal structure of dry, ambient stable matter the cryoplaning method can be used either at low or ambient temperature for such materials as well with high success rate, especially in case of tough materials and materials with irregular hardness.
Thanks to their very flat surface, cryoplaned samples have ideal properties for Energy Dispersive X-ray analysis.
A smart combination of cryoplaning and cryo-fracturing can be applied to study interface properties of materials with complex structures. In that case cryoplaning helps to obtain a good insight in the local structure of the material, while locally induced cryo-fractures reveal interfaces such as oil-water interfaces or crystal surfaces.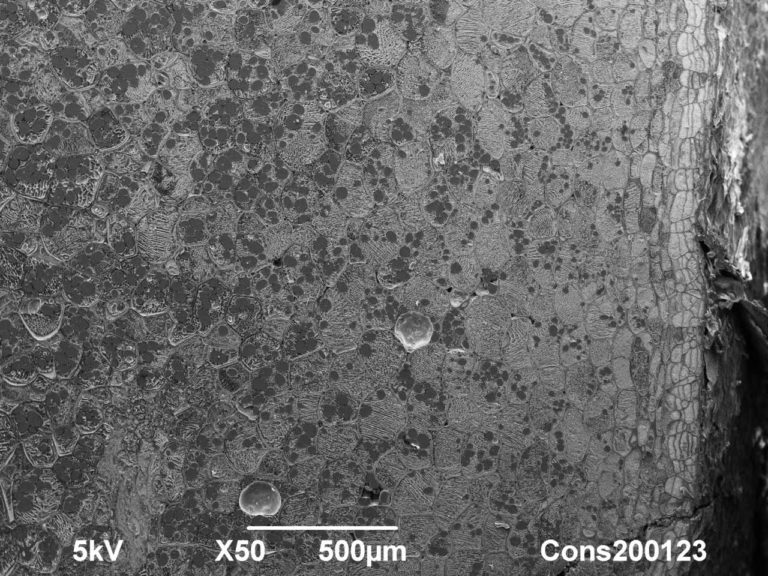 Cryoplaning SEM image of Potato tuber at very low magnification providing large overview. Skin at the right and starch cells at the left.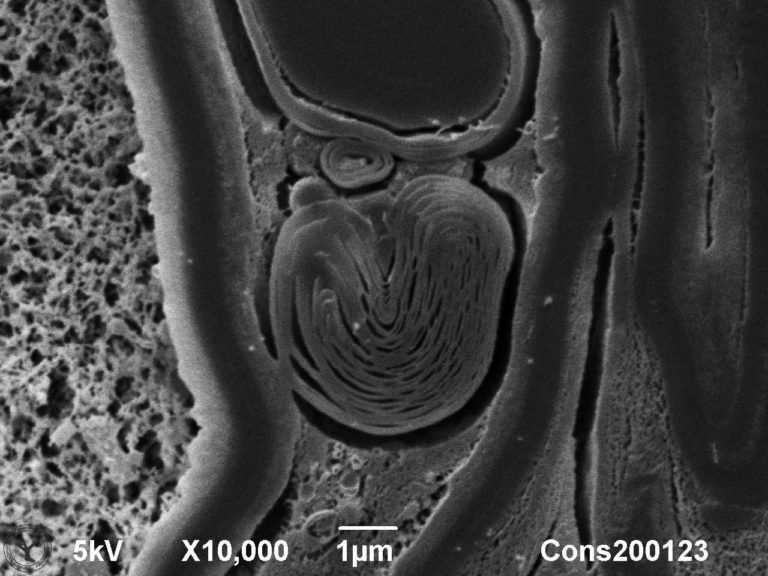 Cryoplaning SEM detail image of potato tuber skin cells at twohundredfold higher magnification than in preceding image.
SEM connects millimetres, microns, and nanometres, spanning six orders of magnitude
Cryoplaning at Consistence
Consistence has the right instruments and expertise to perform Cryoplaning, and this method can be considered as one of the unique selling points of our laboratory. High quality cryoplaning facilities are rare, even worldwide, and for this reason international partners find their way to Consistence to obtain multidisciplinar imaging of their materials, with this valuable cryoplaning method in conjunction with high throughput methods for larger amounts of related samples.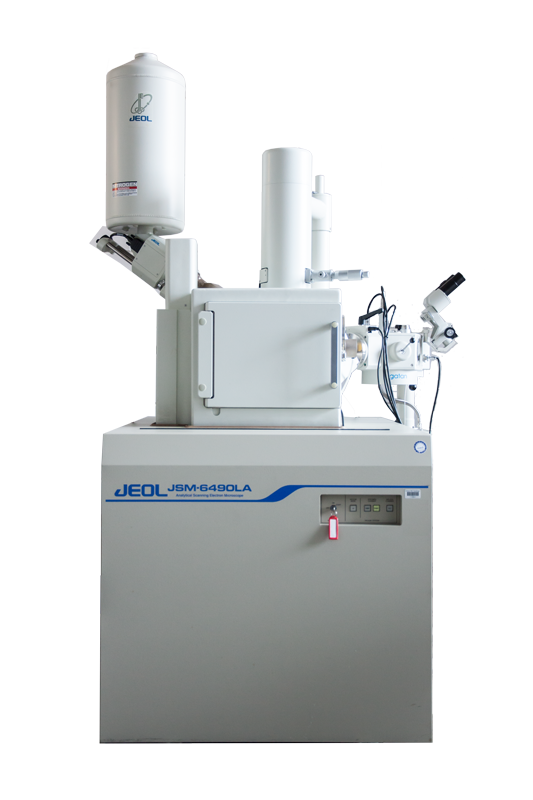 The SEM at Consistence can be booked for use by third parties. Consistence also provides help in optimising SEM setups in other R&D laboratories.
To visit our laboratory, send a sample or learn what we can do for you.
Our aim is to provide world class microstructural insights and we are happy to receive feedback. Contact us for more information if this page is relevant for your research. Free use of the images and content of this webpage is permitted with reference to Consistence.